ADO EBIKE Announces the Launch of ADO Beast 20F Fat Tire Ebike
ADO Beast 20F is a 20-inch mountain fat e-bike that is faster, stronger, and easier than ever.
ADO EBIKE is excited to announce the launch of its latest product, the ADO Beast 20F fat tire ebike, on Geekbuying. This product launch is a testament to ADO's commitment to providing reliable, safe, and environmentally friendly transportation solutions for its customers.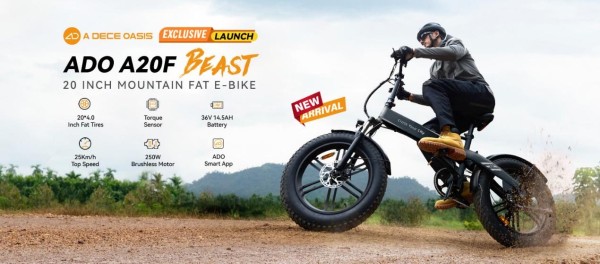 The ADO Beast 20F Ebike is equipped with a 14.5Ah 36V lithium-ion battery, providing a maximum range of up to 120km on a single charge, making it perfect for long-distance rides. The torque sensor measures the rider's pedaling power and adjusts the motor output, providing a smooth and efficient ride. The hydraulic disc brakes offer reliable and responsive stopping power, while the sturdy aluminum alloy frame can withstand daily use and outdoor adventures.
ADO Smart technology, allows real-time navigation, riding data, and after-sale service windows. ADO Beast 20F also has an IPS screen. It's easy to read at any angle, especially when it is raining or under strong sunlight. The ADO Smart app allows riders to monitor and control their bike's performance. Enjoy the ride with smart navigation that will guide you wherever you go. It also records the time and distance of your ride. In case of an emergency, you can also quickly contact our engineers via the app to help you solve your problem.
With a high-performance motor delivering impressive acceleration and torque, cruising on flat roads or tackling steep hills is smooth and reliable. With a built-in smart sensor system, ADO Beast 20F provides the power you need immediately from a standing uphill start easier and Safer. Let you deal with various road conditions more easily. What's more, the bike's stylish design, available in black, white, and sand, is sure to turn heads.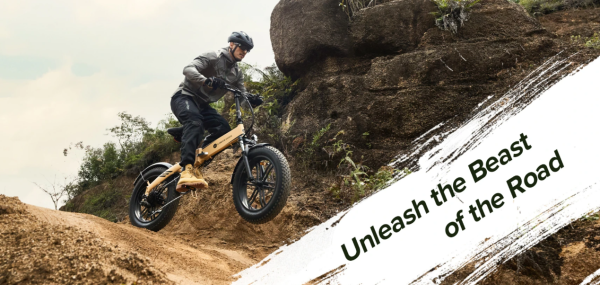 Mr. Sen, ADO's founder, said, "Every product embodies my view of the world and expresses my desire for better values for every consumer, so it must be a great product, not just a good product." ADO Lab, its R&D arm, is responsible for developing the products, creating innovative designs, and ensuring quality through rigorous testing and quality control processes.
The ADO Beast 20F Ebike is available for purchase on Geekbuying at a special launch flash deal of €1599.00. Don't miss the chance to get your hands on this exceptional e-bike.
For more information about the ADO Beast 20F Ebike, visit Geekbuying's website
Media Contact
Company Name: Shenzhen Youanmi Technology Co.
Contact Person: Emma Wang
Email: Send Email
Country: China
Website: www.adoebike.com