Taxi Web Design Is Offering Robust Ride Booking Solutions and Taxi Dispatch Systems for Online Transportations Businesses.
Taxi Web Designs is delivering exclusive taxi booking software developed by best-in-class taxi booking app developers.

Taxi Web Design is providing its expertise service of custom and subscription-based ride-booking solutions for digital transportation businesses. They offer cohesive, trendy, reliable, and cost-effective taxi booking app services.
Based in Nepal, they have been giving taxi booking software to online transportation companies since 2008. They are a team of professionals with more than 15 years of experience in full-stack application development. Also, they have more than 12 years of experience in ride-booking & Dispatch systems. Operating across the globe they retain a huge sum of happy clients in terms of both Custom Ride Booking App & Subscription based Booking Apps.
Their talented team includes App developers, back-end developers, and QA & UX UI.
One of the major reasons for accountability of their services can be demonstrated by their 5 Star Rating in Trustpilot. They offer ready & completely tested Apps that exactly work as described. The taxi booking apps offered by them are Purely Native Apps. Over 100+ customers take into application the same system.
Furthermore, their effective and vigorous back-office taxi dispatch system helps automobile businesses operate free from strenuous and time-consuming ways of manual accounting of drivers' payouts and earnings.
Taxi dispatch software offered at Taxi web Design is easy to configure and scalable with complete access and automation available. Within an estimated time of 90 Working days, you can get a portal to supervise your drivers and customers easily from one portal.
The taxi booking software and taxi dispatch system work in the direction of bringing more visitors to your website, increasing this fundamental revenue stream. The package is inclusive of 2 Android Apps and 2 iOS Apps built in Swift and Java.
With the taxi booking app from the admin system, nearby drivers and current tasks on google maps can be tracked down along with the job status. Also, it automatically calculates drivers' percentage of commission and keeps business sorted out.
Visit their website for building up taxi booking software to run your online transportation business smoothly at http://taxi-webdesign.com/custom-ride-booking-app or reach out to Taxi web Designs via their Email at, [email protected]
Or below platforms:
http://facebook.com/taxiwebdesigncompany
https://www.instagram.com/taxiwebdesign
https://www.fiverr.com/taxiwebdesign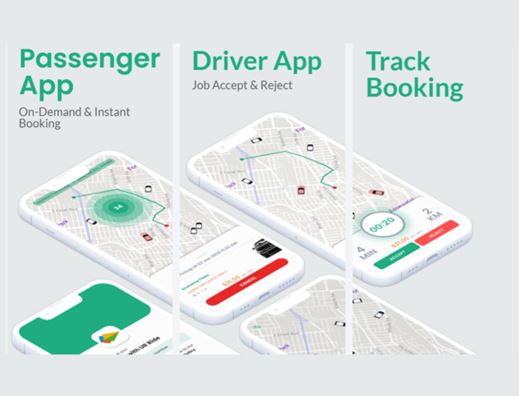 Media Contact
Company Name: Taxi-webdesign
Email: Send Email
Country: Nepal
Website: http://taxi-webdesign.com/custom-ride-booking-app