Sweet Zivile Organizes Book Signing of Food, Love and Harmony in Our Home in Pasadena
Unique self-thought chef, Sweet Zivile, set to hold a book signing event for "Food, Love and Harmony in Our Home" at the prestigious Vroman's Bookstore in Pasadena, CA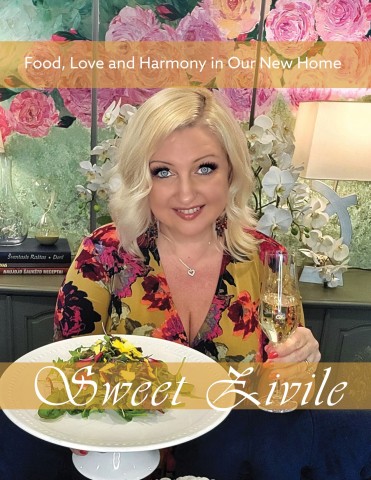 Sweet Zivile published Food, Love and Harmony in Our Home as a gift for weddings, housewarmings, birthdays, and other such events, as she shares her signature recipes with readers to enable them to make delicious meals. In a related development, the Lithuanian recently announced that she will be having a book signing at Vroman's Bookstore in Pasadena, CA, 695 E Colorado Blvd, Pasadena. Those who use this book as a reference will have more love, laughter and fun in the household through food.
"Came to the United States 11 years ago with absolutely zero English. I would go to a library and get 10 cooking books a week. I could not read the entire book, but I would read the ingredients, directions and many times using a dictionary. Then I started to take books that had some stories around the recipes and after 18-20 months I was able to read an entire book (not only recipes) and here I am, sitting at my desk and writing my own book." – Sweet Zivile.
Food, Love and Harmony in Our Home is divided into 2 parts, as Sweet Zivile breaks away from the norm of chefs sticking to their roots. The Lithuanian who has rarely cooked Lithuanian food shares her adventure of mixing the best recipes and spices from different parts of the world to create magic.
The comprehensive cookbook contains recipes as well as basics of etiquette and how to be a lady, how to take care of loved ones, and how to be a great host or how to be a great guest. There is also a bonus – menus with detailed timelines.
"Sharing what I've learned is the inspiration for this book, more importantly I want to show people that it's not rocket science, anyone can make delicious meals, host incredible parties and do it with class, with just a little guidance. Well, I've laid out a wonderful road map for you. You would be surprised how simple it is to make food that is beautifully presented and tastes as good as it looks. I break it down for you in digestible bites. If I can do it, others can too." – Sweet Zivile.
Food, Love and Harmony in Our Home can be found on Amazon for foodies and cooking enthusiasts worldwide.
For further information about Food, Love and Harmony in Our Home and other works from Sweet Zivile, visit – https://sweetzivile.com/. Sweet Zivile can also be found across several social media platforms, including Facebook and YouTube.
Media Contact
Company Name: Sweet Zivile
Contact Person: Zivile Crawford
Email: Send Email
Phone: (747)-255 9995
Country: United States
Website: https://sweetzivile.com/