Author's Tranquility Press Supports HD Graham As He Offers A Salute to the Nurses That Served in Vietnam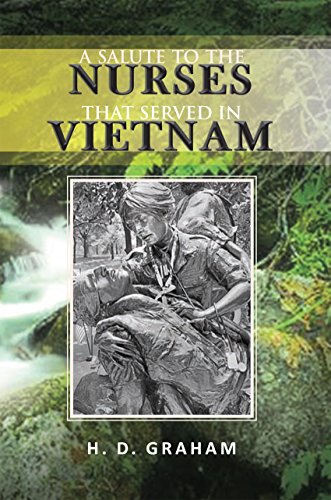 Leading media and publicity company, Author's Tranquility Press, promotes HD Graham's "A Salute to the Nurses That Served in Vietnam," as he shares the experiences of nurses during the times of war
HD Graham seems to be ticking the right boxes as his book, A Salute to the Nurses That Served in Vietnam, has got the backing of Author's Tranquility Press, one of the biggest names in the world of literature. The retired educator and Air Force NCO (non-commissioned officer) offers a mix of fiction and true stories as he discusses the experiences of nurses during the war, using Vietnam as a case study.
Stories about war and victims often fail to include the experiences of caregivers, especially nurses and medical practitioners. However, HD Graham might just be changing this narrative, following the release of his eye-opening book titled A Salute to the Nurses That Served in Vietnam.
HD Graham chronicles the struggles of nurses as they try to take care of war victims, especially soldiers who served in Vietnam from 1962 to 1975. The touching stories will undoubtedly bring tears to the eyes of readers even as the author offers a unique humorous twist to the narration that includes his personal experiences as an Air Force NCO and after his military career.
A Salute to the Nurses That Served in Vietnam can be found on Amazon for lovers of history and adventure.
For further information about A Salute to the Nurses That Served in Vietnam and the plethora of books promoted and published by Author's Tranquility Press, visit – www.authorstranquilitypress.com.
About HD Graham
HD Graham is a retired USAF E9 and a retired educator. He was the first USAF member to serve direct duty with the Special Forces in Vietnam. He taught for nearly twenty years as an educator, mostly at Harrisonville-Scipio Elementary School. Graham graduated from Scipio High School when he was sixteen years old and traveled extensively while in the military, especially enjoying the island nations and the people throughout the Pacific area and Southeast Asia. He has two bachelor's degrees and a dual master's degree.
About Author's Tranquility Press
Author's Tranquility Press is one of the leading publicity agencies that specialize in helping writers across genres to reach a wider audience. The firm leverages the latest technologies as well as the expertise and diverse experience of the team to deliver quality, relatable content to as many people as possible, irrespective of their location across the globe.
Media Contact
Company Name: Author's Tranquility Press
Contact Person: Patricia Adams, Marketing Supervisor
Email: Send Email
Phone: (866) 411-8655
Address:2706 Station Club Drive SW
City: Marietta
State: Georgia, 30060
Country: United States
Website: www.authorstranquilitypress.com