Kemove Starts Mass Production Of Its Much Awaited K68 Mechanical Keyboard Available With A Programmable Hot Swappable Switch Design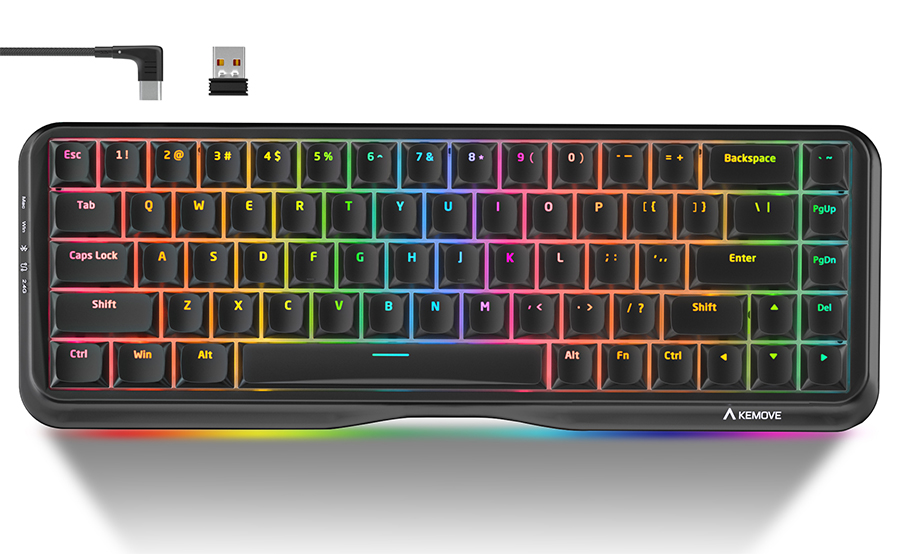 The all-new low-profile keycaps make typing feel similar to a MacBook's keyboard.
After working on the K68 project for over a year, Kemove has finally started the full-scale mass production of its much-awaited keyboard. The new hot-swappable keyboard for Windows, Mac, and Linux has been made available with a low profile double shot PBT keycaps, making it stand out from other keyboards currently on the market. K68 is Full N-Key Rollover (NKRO) with 100% anti-ghosting that ensures each keypress registers, no matter how fast a user types.
Using its macro settings, users can even program the hot-swappable switches and switch between 3 modes: Type-C Wired, Bluetooth 5.1, and 2.4 GHz. The K68 keyboard comes with five unique RGB lighting effects that wrap around the entire keyboard. It includes 68 keys with a 65% arrangement and a distinctive wrap-around light strip in a small package. The new keyboard also offers 19 RGB unique lighting effects in addition to the 5 RGB backlights produced by this stripe.
In the words of one of the key spokespeople for the company, "We have steadily improved the quality of our mechanical keyboards for the last four years, and this is one project that is very dear to us. Its vibrant glow can be used to match your mood, personal taste, or desktop theme. You get durability and a pleasant, comfortable feel with these ergonomic keycaps. We hope to start a revolution with the launch of Kemove K68 mechanical keyboard. Because we are Kemove, and we make elegant keyboards for everyone!"
For more information, please visit: https://thegadgetflow.com/portfolio/kemove-k68-mechanical-keyboard-has-hot-swappable-switch-design-that-you-can-program/
Media Contact
Company Name: KEMOVE
Contact Person: Support
Email: Send Email
Country: China
Website: www.kemove.com/product/k68