Soulful Singer and Grammy Award-Winning Songwriter – MediSun Teams Up With Sean "YoungPow Diedrick" to Release Sensational New Single, Love Is The Way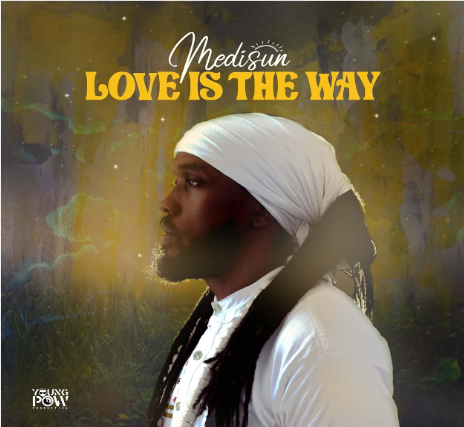 MediSun, A Multi-Talented Singer, Songwriter, and Composer Releases New Single – Love Is The Way, a Deeply Felt Song where the Artist Bares His Soul
Produced by Grammy award-winning Producer Sean "YoungPow" Diedrick
MediSun is an extraordinarily gifted musician, Grammy award-winning songwriter, accomplished singer, and composer, whose talents can lead him to groundbreaking heights in the industry. MediSun announced today, the release of his new single – Love is the Way, which is set to be officially released on Sept. 23rd, 2022, on Spotify, Apple Music, Deezer, and Tidal.
Love Is The Way is produced by Grammy award-winning producer Sean "YoungPow" Diedrick and released by Diedrick's independent label "YoungPow Productions".
On working with MediSun, YoungPow states "It's always a natural vibe working with MediSun, his writing and delivery skills are always on point."
The Boston-raised and LA-based singer has always had an unwavering passion for music as a source of healing and is known to exude a unique and raw musical energy. Formerly known as King Mas, MediSun artistically combines high-level musical artistry with thought-provoking messaging in his new single, Love is the Way.
MediSun breeds an unparalleled level of consciousness in his music and shines as a positive force to reckon with in the midst of uncertainty prevalent in the human experience. MediSun has been known to always align with his roots, hence his conscious support of reggae music with hints of soul and hip-hop. He has worked with a fleet of major leagues in the reggae industry such as Chronixx, Kabaka Pyramid, and R&B hitmaker, Lucky Daye.
Love is the Way is written by Glenford Lee Prospere [MediSun], composed by Sean "YoungPow" Diedrick, and mixed by Veer Dhaniram. The song consists of two verses and choruses and was mastered by the talented Chris Athens Music.
As an epilepsy survivor, MediSun is known to use his music as a form of deep healing and he unlocks the spiritual realm with drops of native chanting. MediSun draws from personal pain and experiences and attempts to free countless others from mental, physical, and emotional bondage.
In his new single – Love is the Way, MediSun gives hope to people and encourages them to walk in love regardless of what life throws at them. He seeks to elicit healing from his listeners through every musical note and guitar stroke and resonates with the masses from far and wide.
With a myriad of new projects on the horizon, MediSun plans to keep fans and followers wrapped in his whirlwind of musical healing in 2020 and beyond. MediSun is dedicated to composing poignant lyrics and potent melodies to create a healing remedy while connecting himself to a higher force.
For more information on MediSun's new single – Love is the Way, Click Here.
Media Contact
Company Name: Destine Media
Contact Person: Ronnie Tomlinson
Email: Send Email
Phone: 3474978874
Country: United States
Website: www.destinemediapr.com