'Dancing with Myself' Winner Doesn't Let Hearing Loss Dampen Her Dreams
Despite her hearing impairment, actress Lily Kate inspires others to keep the beat
But despite the struggles the impairment caused throughout her youth, the now 16-year-old hears her future loud and clear.
It began with a gymnastics class in North Dakota. Her mother was a dance instructor and was well versed in the benefits the training could bring to Lily Kate to help with the balance issues caused by hearing loss.
Her balance improved, but her family quickly learned there was more to Lily Kate's time on the mat. She was a natural talent. Even as a toddler, she could easily find the beat.
"I found a love of music and dance, and the passion started young for me," Lily Kate said. "Even as young as five, I learned that while I can't always control if I can hear someone, I can control how flexible I am or how strong I can become."
She trained for nearly 12 years in North Dakota, perfecting her technical moves while growing into her early teen years, a time she said taught her how to navigate social acceptance.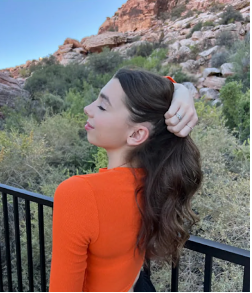 "It's hard to communicate sometimes or have a conversation, depending on what side of me someone is standing on when they are talking," she said. "I was living almost every day just trying to fit in. I felt like people were always getting annoyed."
In those times, Lily Kate recalls, she would return to the studio, leaving the doubts behind and immersing herself in her safe space.
When she was 13, Lily Kate's family relocated to Las Vegas, which would help catapult the young dancer's dream of making a name for herself in the entertainment industry into a reality.
Lily's first big break came fast when she booked a music video with one of America's most notable pop rock bands, Blink-182. Later that year, she was cast as a resident dancer in a dinner theater show at The Cosmopolitan Resort, located along the strip in Las Vegas.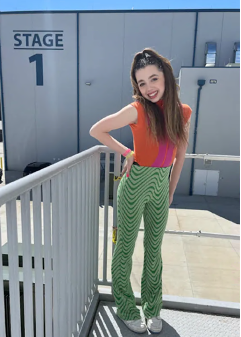 Lily's next move would lend perhaps her most significant exposure to her industry as a contestant on NBC's new dance-challenge show, "Dancing with Myself". The series, which premiered in May of 2022, features celebrities Shakira, Nick Jonas, and Liza Koshy.
Each week, 12 contestants compete for the winning spot in six rounds inspired by social media's most prominent dance trends. Lily Kate would win first place and a $25,000 prize for episode 4 of the show.
"I am super grateful for all the experience I have gotten," she said. "I feel like I have come so far."
Lily said her next move is to continue working on her craft to strengthen her talents. She said she has been working hard to overcome her doubts about her singing, an additional skill that she knows will provide more versatility in her career.
"I always worry that I don't hear the pitch correctly and question myself a lot," she said. " I am working on stepping out of my comfort zone. Growing isn't always comfortable, but I have learned that you need to be confident in expanding one step at a time."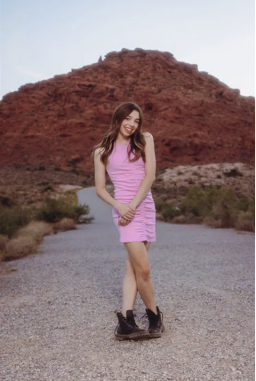 When she looks at her future 5 or 10 years from now, Lily says she sees herself living in LA and working on a tv show. She may have needed to work harder to perfect her craft, but she never let her disability stop her from reaching for the sweet sound of success. It is a lesson she hopes can inspire other young people from all walks of life to keep working towards their goals.
"Go in there with confidence, and don't ever hold yourself back for any reason," she said. "Take that step forward."
Media Contact
Company Name: Lake Mickels / Ikkonn
Contact Person: Media Relations
Email: Send Email
Country: United States
Website: https://www.instagram.com/p/CiJYj9FP72U/