David Myles Robinson's, Words Kill Explores History and Social Politics by Way of An Urgent, Addictive Suspense Thriller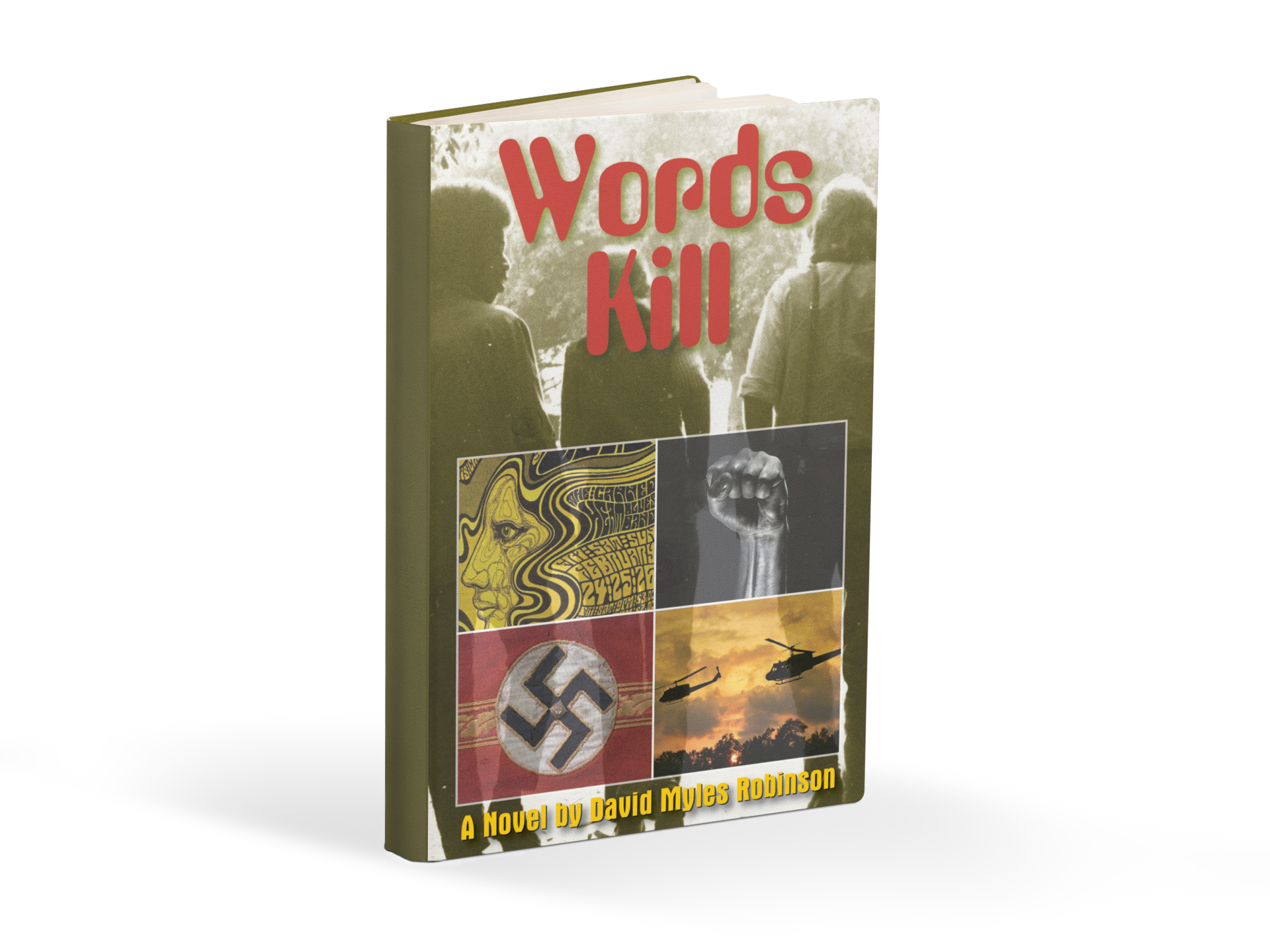 The story spans the decades since the 1960s and touches on issues of domestic violence, racial inequality, post-traumatic stress, and the rise of Neo-nazism.
Words Kill is a time bending novel that centers around Cody Blaze and his father Russell. In present time, Russell is a famed journalist who has just passed away in what is believed to be an accident. After stumbling onto a letter from his late father, however, Cody soon realizes that not everything is as it seems. When Cody follows Russ's instructions and finds his incomplete memoir, he begins to learn the many secrets of his father's past, which he must use to uncover the mystery of his death. This nail-biting search for the truth takes Cody on a journey through the past that unveils, among other things, his father's involvement in the chaotic underworld of Vietnam War protest and the activism culture of San Francisco at the time.
"Having lived in the Haight-Ashbury in San Francisco in the late 60s, I wanted to try to bring to life what the times were like–from the optimism of the original hippies, to the fear of being drafted into the Vietnam War, to the rage of witnessing racism, to the gradual rise of white-nationalism. So much of the story from those days is scarily relevant today," says author, David Myles Robinson. An experienced trial attorney and highly acclaimed author, Robinson's work spans multiple genres including mystery, suspense, thriller, memoir and more. With Words Kill, his goal was to bring to life difficult yet important themes to showcase the harrowing reality of issues present both then, and now. "My passion is writing stories which have current or historical relevance."
Robinson's challenging thriller boasts more than just page-turning excitement. Words Kill offers startlingly poignant social commentary that calls into question how far we've really come as a society and pays homage to the activism work of the past and present. The book tackles difficult subjects like racial inequity, domestic abuse and addiction with grace and acuity shedding light on the ways historical trauma follows us into the present day. These hard-to-swallow themes are complemented by Robinson's raw style of dialogue, which favors gritty, profane realism over the canned, too-clever affectation that dominates most books of the genre. For a narrative that highlights the power of words, this style of prose goes a long way in depicting both the characters and the setting in such a way that cuts through the stories we tell ourselves about the world we live in and calls our attention to the vivid realities hiding just beneath the surface.
Words Kill has received positive reviews from some of the most well-renowned literary organizations, authors, and reviewers around the world. The Prairies Book Review writes, "the mystery is peripheral to the poignant exploration of love, loss, hate, trauma, violence, and racial disparity…beautifully written, dark, and propulsive, the book makes for a standout."
Words Kill is as thought provoking as it is exhilarating and fans of the mystery genre will be captivated from start to finish. The book is available for sale on Amazon, Barnes & Noble, Apple iBooks, Nook and other online bookstores. Readers are encouraged to purchase their copy today: https://www.amazon.com/Words-Kill-David-Myles-Robinson/dp/1948749807/
About the Author
David Myles Robinson has always had a passion for writing. During the late 1960's and early 1970's, while in college, Robinson worked as a freelance writer for several magazines and was a staff writer for a weekly minority newspaper in Pasadena, California. Upon graduating from San Francisco State University, he attended the University of San Francisco School of Law. It was there that he met his wife, Marcia Waldorf. In 1975 the two moved to Honolulu, Hawaii and began practicing law. Robinson became a trial lawyer and Waldorf eventually became a Circuit Court judge.
Upon retiring in 2010, Robinson completed his first novel, Unplayable Lie. He has since published five more novels. Robinson and Waldorf now live in Taos, New Mexico where Robinson can pursue his non-writing passions of golf, ski, and travel. To learn more, please visit: https://www.davidmylesrobinson.com/
Connect with David Myles Robinson on Social Media:
Facebook: https://www.facebook.com/DavidMylesRobinson
Twitter: https://twitter.com/DMRobinsonWrite
Instagram: https://www.instagram.com/davidmylesrobinson/
Media Contact
Company Name: Author News Network
Contact Person: Media Relations
Email: Send Email
Country: United States
Website: authornewsnetwork.com