New NOVOO x realme TechLife Computer Accessories
As of today, NOVOO by realme TechLife's first three computer accessories products are available in the Indian market. The product will be available from 19th September 2022 on Flipkart, Croma, and more than 3,000 retail outlets across the country through our India distribution partner DNS. These products are of the highest quality and come with an international warranty.
Launch of New Products
NOVOO by realme TechLife 4in1 USB HUB
NOVOO by realme TechLife 6in1 Pro USB-C HUB
NOVOO by realme TechLife 9in1 Pro USB-C HUB
Will be available on Flipkart: https://bit.ly/3KYWan4
Don't miss out on the launch date sales, which offer a great discount!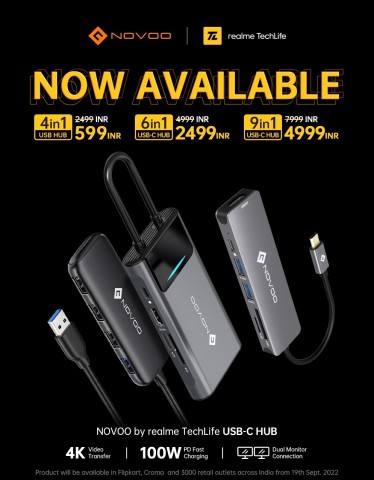 NOVOO gladly acknowledges how the world is evolving and how consumers want value for their money while still giving customers what they want. Its team is aware that change is continuous and that to flourish, they must continually improve themselves and provide their clients with what they deserve. As a result, NOVOO will always progress to higher levels.
Media Contact
Company Name: NOVOO
Contact Person: Piyush Puri – India Director
Email: Send Email
Country: India
Website: www.novoo.in