Blockchain-based Q&A platform Answerly is moving from Stellar to Polygon blockchain.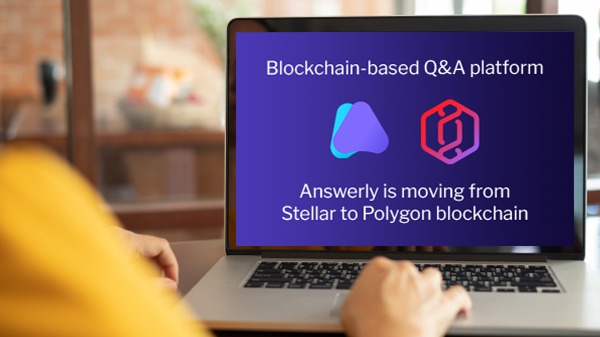 Answerly, a blockchain-based Q&A platform is migrating from Stellar to the Polygon network. Answerly [tweeted] about this decision on their official account on 15th August 2022. Raza Rizvi [CEO of Answerly] mentioned that the reason for migrating to Polygon Network is the lack of support and acknowledgment from Stellar Development Foundation.
In Oct 2021, Answerly received a grant of $150,000 from Stellar Foundation that enabled the team to complete its first-year milestones. Raza Rizvi explains that despite all the progress that the company has managed to achieve, Stellar Foundation hasn't been supportive of the project. The company's efforts to get in touch with SDF and participation in Stellar Community Fund have been met with uncharacteristically cold silence.
Answerly envisions a future for Q&A platforms where users are rewarded for their contributions to the platform. While Answerly is showing rapid signs of growth, Stellar Foundation has decided to distance itself from Answerly at this critical juncture.
Assessing the current situation, the team realized that migrating to Polygon blockchain would allow more exposure, growth, and liquidity for the Answerly token. The Polygon blockchain will offer exposure to a bigger and more active community than Stellar. As a platform that thrives on engagement and community participation, Answerly anticipates exciting times ahead.
The team also announced that migration to Polygon blockchain means a few tweaks here and there. Answerly token will be deployed on the Polygon blockchain, with the same ticker and supply. In addition, all Stellar-based Answerly token holders would be able to easily swap their tokens for Polygon-based ANSR at a 1:1 ratio. The swapping system is under development and will be made live for the holders from 1st Oct. Associated projects, including Answerly Invest and Answerly NFTs, will also be aligned with the Polygon blockchain's paradigm.
Answerly further mentioned that the initial price of $ANSR token will be set at 0.005 USDC. The news must thrill the $ANSR token holders since this is more than double the current price of the $ANSR token.
Trading $ANSR tokens will be made possible on decentralized exchanges such as:
– Uniswap (Polygon)
– Sushiswap (Polygon)
– Quickswap
Switching between blockchains is not the easiest decision for Answerly and its community. However, the company is confident that this move will not only help Answerly to gain more exposure but will also open doors for more opportunities.
Media Contact
Company Name: Answerly
Email: Send Email
Country: United States
Website: answerly.app