Gray and Sons Jewelers and Their Buying Division, Sell Us Your Jewelry.com, Donates To Optimist Club Scholarship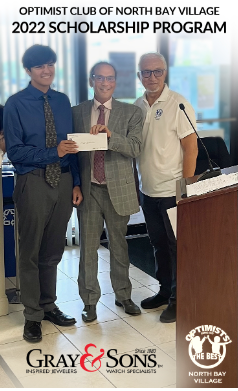 Local Miami Business Pays Community Generosity Forward
Miami, FL – June 30, 2022 – Sell Us Your Jewelry, a long-time supporter of The Optimist Club's scholarship programs and more than just a place to sell your engagement ring, continues to show their support this year at the scholarship presentation event held in North Bay Village. Re-affirming their dedication to the community and youth, Sell Us Your Jewelry presented a scholarship to aspiring young musician and recently admitted college student Ethan Martinez.
Ethan Martinez is a bright and versatile student; playing multiple instruments; having been a member of G. Braddock Holmes Senior High's marching band, concert band, and jazz band; having a second black belt in Tae-Kwon-Do; and, of course, having just graduated high school with a 3.4 GPA. Additionally, Ethan gives back to his own community, having held car washes to raise funds for the band and having taught a music theory course as an after-school program this year. For everything Ethan does for the community, Gray and Sons Jewelers and Sell Us Your Jewelry wanted to give back to Ethan. "We are so grateful that we're in the position to be able to make a difference in the lives of others," said Keith Gray, President and Founder of Sell Us Your Jewelry. "To be able to provide an education that will help shape and empower the lives of young adults is something that's intangible to us."
Gray noted that these contests are especially important to him as he was the winner of one of these contests when he himself was a student. Gray strives to pay this support back to the community through Sell Us Your Jewelry's generous donations.
This scholarship comes as a part of The Optimist Club of North Bay Village's scholarship program, one of their many efforts to uphold their motto, Bringing out the Best in Kids. Optimist International is an organization that believes in optimism and believes that optimists bring out the best in youth and communities. Since every community is unique, Optimism International is broken down into more local Optimist Clubs that serve their specific communities in the ways only community members know how.
The Optimist Club of North Bay Village was founded 40 years ago and remains as committed as ever to their driving mission to support the community youth. They regularly hold programs and fundraisers to support the youth in the community. In addition to their scholarship program, they hold essay and oratory contests open to all students in Miami-Dade County. Through 5k runs, home garden tours, and many other events, The Optimist Club has been able to give thousands of dollars in support of the youth.
Sell Us Your Jewelry, the buying division of Gray & Sons' Jewelers, is a great place for sellers to sell and trade jewelry and watches, check Rolex prices, and get competitive jewelry quotes. Learn more about Sell Us Your Jewelry and where to find a "jewelry buyer near me" on their site.
Media Contact
Company Name: Gray & Sons Jewelers
Contact Person: Agnes M Gray
Email: Send Email
Address:9595 Harding Avenue
City: Miami
State: FL
Country: United States
Website: www.grayandsons.com