Baby-friendly Housing Gives Birth to New Business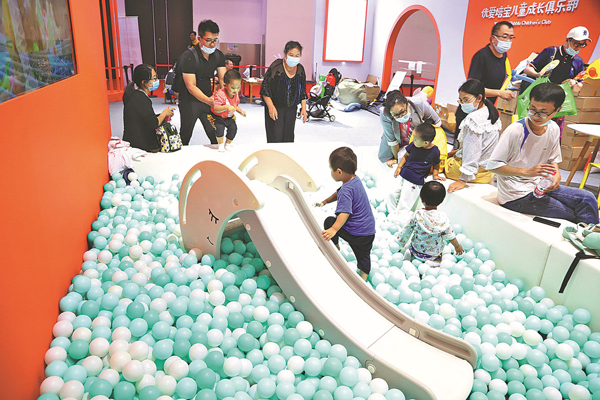 Kids and their families enjoy leisure time in a children's playing area at an expo held in Beijing in July. [GUO HAIPENG/CHINA NEWS SERVICE]
Cities strive to make home-buying among bigger families more affordable, spurring growth of maternal-child goods
With some cities easing homebuying policies for families with two or more children, the market for products and services catering to such consumers is expanding.
In May, the Hangzhou government in Zhejiang province issued a guideline promoting the healthy and stable development of the city's property sector to satisfy the needs of multi-child families.
According to the guideline, eligible three-child households are allowed to purchase additional housing units beyond the city's purchase quota. When eligible three-child families sign up for public lottery sales of newly built commercial housing, they can enjoy the same advantages as families that rent rather than own homes.
Other cities have also eased housing policies for families with more than one child.
On May 14, the government of Dongguan, Guangdong province, published a notice allowing two-kid and three-child families to buy additional housing. A day earlier, the Nanjing government issued a similar policy with related policies carried out by the governments of Yangzhou, Wuxi and Suzhou in Jiangsu province, Ningbo in Zhejiang province as well as Mianyang and Zigong in Sichuan province.
The policy easing helps Chinese residents with reduced financial capacity due to additional family members to purchase residential property. This has spurred a willingness to have more children, thus promoting the market for goods and services catering to young mothers and their children, industry experts said.
In 2015, China launched a comprehensive second-child policy. At the beginning of the launch of the policy, the number of newborns in 2016 totaled 17.86 million, an increase of 1.31 million compared with that of 2015, and China's birth rate reached 12.95 percent, 0.88 percentage point higher than the previous year, said the National Bureau of Statistics.
With the gradually declining influence of the second-child policy and the newborn population dividend, the number of births in China in 2020 was only 12 million.
By the end of last year, the nation's population totaled 1.413 billion. The number of newborns was 10.62 million, and the birth rate was 7.52 percent. The latter two both marked lows unseen since 2000.
On May 31, 2021, the third-child policy was officially announced. "Giving birth or not" once again became a hot topic, and various memes about the third-child policy appeared on the internet.
On video sharing portal Douyin, there were over 400,000 videos related to "three children", and the cumulative number of views hit nearly 6 billion.
It is expected that although there will not be a new baby boom within the next few years, there will still be a certain degree of recovery in the growth of the newborn-related sector, said market insiders.
According to a report from market consultancy iResearch, China's maternal and child-infant market totaled 3.46 trillion yuan ($515.5 billion) in 2021. The market is expected to maintain stable growth and reach 4.68 trillion yuan by 2025.
"China's population base is large. Although experiencing relatively slow growth, there were more than 10 million newborn babies in the country last year. The market contains great potential," said Chen Qiang, president of Burdock Biotechnology Co Ltd, a domestic company specializing in mother and infant products.
Media Contact
Company Name: The Information Office of Hangzhou Municipal Government
Contact Person: Cai Jingwen
Email: Send Email
Phone: 0510-68559077
Country: China
Website: http://www.ehangzhou.gov.cn/