Alex Urban – The Media Buying Strategist Disrupting The American Fashion Market
Digital marketing and e-commerce expert, Alex Urban, continues to push boundaries across industries as he helps an apparel company in the US go from $0 to $11,400,000 in sales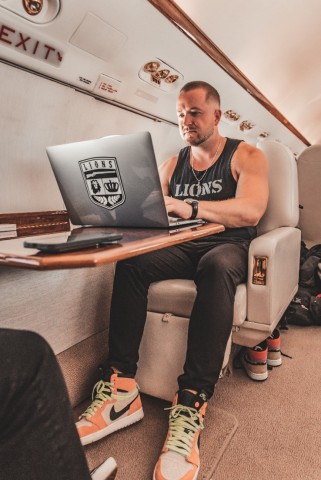 Alex Urban has been described with several adjectives over the years and the 27-years-old undoubtedly deserves all the accolades coming his way considering the feats he has achieved so far. One of the most significant achievements of the young marketing guru in recent times is helping one of the fastest-growing apparel companies in America, Lions Not Sheep scale from $0 to $11,400,000 in sales in 19 months, as the CMO.
Over the last 19 months, Lions Not Sheep apparel has sold over 457,000 garments and has had multiple celebrities, artists, and internet personalities seen wearing their clothing line such as Bryce Harper, Davi Milsaps, Ian Smith, Rogan O'Handley, Ryan Stewman, Dan Fleyshman, Dusty Black and Struggle Jennings just to name a few. Lions Not Sheep has also been featured in multiple music videos such as Protect The Land by System of A Down, Cries Of The Crusader by Struggle Jennings, and Who Are You by Dusty Black.
The importance of branding and marketing to the success of an organization, irrespective of the industry, cannot be overemphasized. Unfortunately, many businesses still fail to effectively address their marketing campaign to capture the market and stay ahead of the competition due to the application of obsolete and ineffective strategies. However, some names have been able to carve a niche in the field, with the likes of Alex Urban practically challenging the status quo to set new standards in the world of e-commerce and marketing.
Described as a jack of all trades and master everyone, the Chief Marketing Officer as he is fondly called has helped several businesses to scale up their revenues to a minimum of 7 figures in record time, with his Midas touch unleashing several opportunities for his clients. He is an advocate of the "numbers don't lie" principle as evident in his works.
The Utah native has mastered the art of creating compelling campaigns that will turn the target audience into active consumers, with fantastic ROIs and conversion rates that have endeared him to several brands across different industries.
In addition to the remarkable turnaround in the fortunes of America's fastest-growing apparel brand, Alex Urban has also worked with the likes of, Veda Soul, Backbone Swag, Pandora's Box (Aphrodite's), Pitch Investors Live, F45, Complete Nutrition, EO Bandz, amongst others.
Alex Urban is also the founder of other brands, including Shopify Scaling Secrets, a digital coaching program to educate entrepreneurs on how to create, build, design, and send traffic to their first Shopify store.
For more information about Alex Urban and his works as an entrepreneur and marketing genius, visit – https://itsalexurban.com/. Alex Urban can also be found across social media, including Facebook, LinkedIn, and Instagram.
Media Contact
Company Name: It's Alex Urban LLC
Contact Person: Alex Urban
Email: Send Email
Phone: 801-201-0011
Address:138 E 12300 S Ste C-499
City: Draper
State: Utah, 84020
Country: United States
Website: itsalexurban.com