Cancer Anorexia Causes Diagnosis, Market Insights, Highlights 2030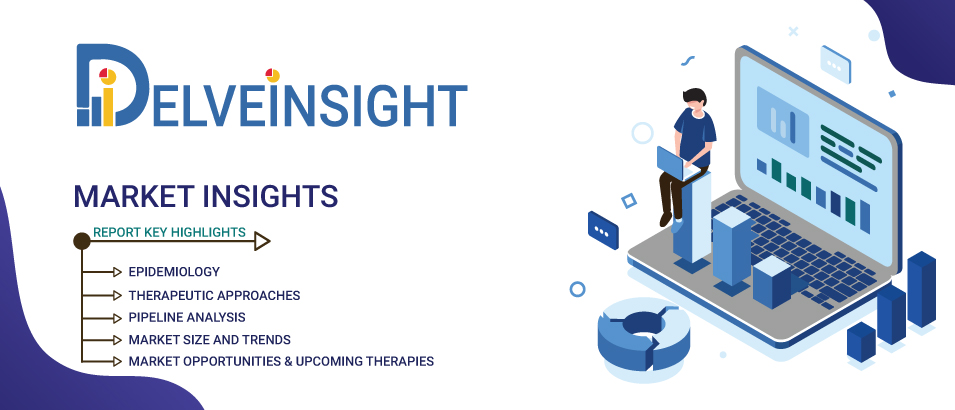 Cancer Anorexia Overview
Cancer is the second leading cause of death worldwide. Toward the end of life, individuals with cancer experience a substantial symptom burden. The top three common symptoms in patients with cancer at the end of life are fatigue, pain, and anorexia (appetite loss). Anorexia is the lack or loss of appetite or desire to eat leading to reduced intake; associated with metabolic derangements, including the release of proinflammatory cytokines such as interleukin (IL)-1, IL-6, and tumor necrosis factor-alpha produced by the immune system and tumor cells. It is the most common cause of decreased nutrient intake that triggers malnutrition and muscle wasting.
The cancer anorexia market report provides current treatment practices, emerging drugs, and market share of the individual therapies, current and forecasted 7MM cancer anorexia market size from 2018 to 2030. The report also covers current cancer anorexia treatment practice/algorithm, market drivers, market barriers and unmet medical needs to curate the best of the opportunities and assesses the underlying potential of the market.
Request for sample– https://www.delveinsight.com/sample-request/cancer-anorexia-market
Some of the key highlights of the Cancer Anorexia market report-
The total number of incident cases of anorexia by cancer types in the seven major markets was estimated to be 740,055 in 2020.
The total incident cases of anorexia by cancer types in the 7 MM is expected to increase at a CAGR of 1.1% during the forecast period 2021–2030.
In the United States, the incidence population of anorexia by cancer types was 265,539 in 2020.
Cancer Anorexia Market: Causes
The causes of anorexia can be characterized by a negative protein and energy balance driven by a variable combination of reduced food intake and abnormal metabolism. It is often associated with an elevated basal metabolic rate, despite a decrease in physical activity and total energy expenditure. Muscle atrophy results from a decrease in protein synthesis and an increase in protein degradation, or a combination of both. There are numerous causes, which can be conveniently categorized as being due to central or peripheral mechanisms. Peripheral causes can be directly due to tumors causing dysphagia or directly impinging on gastrointestinal function; tumor producing substances that alter food intake, e.g., lactate, tryptophan, or parathormone-related peptide; tumors leading to alterations in nutrients resulting in the condition, e.g., zinc; or tumors producing inflammation leading to cytokine release. On the other hand, central causes of anorexia can be depression, pain, or various alterations in central neurotransmitters.
Cancer Anorexia Market: Diagnosis
Cancer anorexia remains one of the most prevalent and troublesome clinical problems experienced by patients with cancer during and after therapy. In general, the condition's presence is clinically diagnosed when cancer patients refer to any negative change of their appetite. However, more symptoms such as reduction of appetite, early satiety, changes in taste, changes in odor, depression, dysphagia, painful swallowing, assessment of meal size, assessment of taste and odor are essential to diagnose the condition.
Cancer Anorexia Market: Treatment
Several pharmacological and nutritional approaches have been used for the treatment of cancer anorexia. Keeping in mind that both anorexia and metabolic disturbances are involved, the development of different therapeutic strategies has focused on two major factors, namely, improving appetite and neutralizing metabolic disturbances. Current pharmacological agents can be divided into three categories: orexigenic agents (appetite stimulants), anti-catabolic (anti-metabolic and anti-cytokine) agents, and anabolic agents (primarily hormonal). Progestagens (megestrol acetate and medroxyprogesterone acetate) are the first-line therapy for cancer anorexia and cachexia.
They are highly effective in relieving the symptoms of cancer anorexia. Corticosteroids, mainly dexamethasone, are also widely used to improve appetite in patients with cancer anorexia, however, they are associated with significant side effects. Cannabis such as dronabinol and nabilone have long been recognized to improve appetite, decrease nausea, and enhance food taste. Furthermore, cancer treatment not only decreases the appetite but makes the patient full more quickly when eating. Therefore, apart from these therapeutic agents, patients are recommended dietary changes to effectively cope and manage appetite loss during cancer treatment.
Cancer Anorexia Market: Emerging Drugs
Adlumiz/Edolmizu: Helsinn Healthcare
ART27.13: Artelo Biosciences
NGM120: NGM Biopharmaceuticals
Cancer Anorexia Market Outlook
The treatment of anorexia related to cancer focuses on improving the appetite and neutralizing the metabolic disturbances. Current pharmacological agents can be categorized as orexigenic agents (appetite stimulants), anti-catabolic (anti-metabolic and anti-cytokine) agents, and anabolic agents (primarily hormonal).
Buy a report– https://www.delveinsight.com/sample-request/cancer-anorexia-market
Table of content
1. Key Insights
2. Cancer Anorexia Market Overview at a Glance
3. Executive Summary of Cancer Anorexia
4. SWOT Analysis
5. Disease Background and Overview: Cancer Anorexia
6. Epidemiology and Patient Population
7. Country-wise Epidemiology of Cancer Anorexia
8. Treatment
9. Recognized Establishments
10. Unmet Needs
11. Emerging Drugs
12. Cancer Anorexia: Seven Major Market Analysis
13. Case Reports
14. KOL Opinion
15. Market Drivers
16. Market Barriers
17. Appendix
18. DelveInsight Capabilities
19. Disclaimer
20. About DelveInsight
Cancer Anorexia Market Report Highlights
In the coming years, the Cancer Anorexia market is set to change due to the rising awareness of the disease, and incremental healthcare spending across the world; which would expand the size of the market to enable the drug manufacturers to penetrate more into the market.
The companies and academics are working to assess challenges and seek opportunities that could influence Cancer Anorexia R&D. The therapies under development are focused on novel approaches to treat/improve the disease condition.
Positive results by major key players NGM Biopharmaceuticals, Artelo Biosciences, and Helsinn Healthcare may increase market size in the coming years, assisted by an increase in the Cancer Anorexia incident population pool.
About Us
DelveInsight is a Business Consulting and Market research company, providing expert business solutions for life science vertical and offering quintessential advisory services in the areas of R&D, Strategy Formulation, Operations, Competitive Intelligence, Competitive Landscaping, and Mergers & Acquisitions.
Contact Us
Yash
Media Contact
Company Name: DelveInsight Business Research LLP
Contact Person: Yash Bhardwaj
Email: Send Email
Phone: +919650213330
Address:304 S. Jones Blvd #2432
City: Las Vegas
State: NV
Country: United States
Website: https://www.delveinsight.com/