New business book "The Game of Value Creation" by Karl Yaacoub is released, an insightful guide to applying corporate value creation strategies to private businesses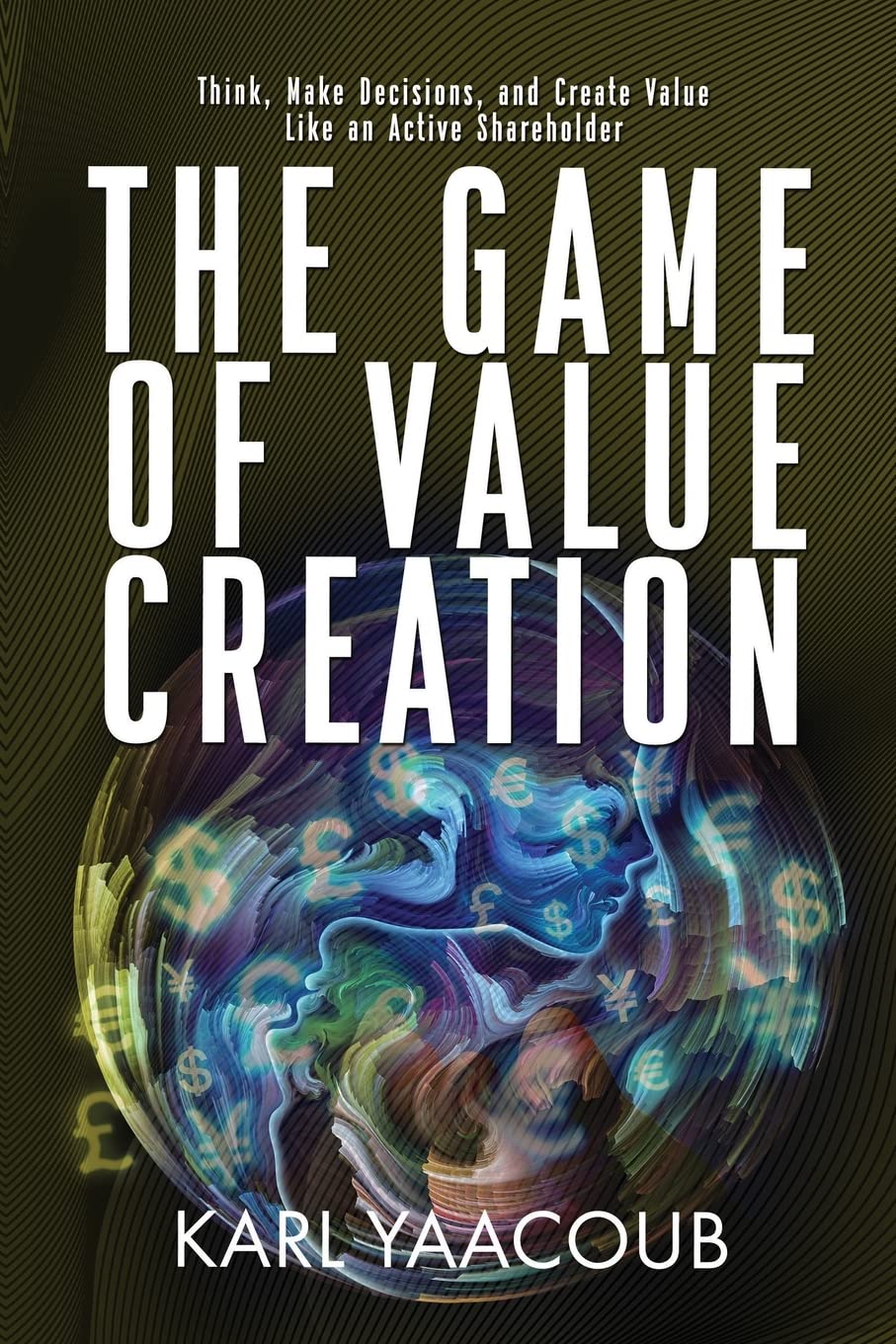 "The Game of Value Creation" by Karl Yaacoub has been released worldwide. This powerful book has one primary focus: helping business owners predictably and consistently enhance their valuation. Through a range of carefully organized sections, Yaacoub presents a compelling case for rethinking business strategy for the long term. The book has achieved bestseller status on Amazon as #1 in the Financial Risk Management category, #2 in the Budgeting category, and #3 in the Finance category. 3
With an emphasis on legacy, the author unpacks the valuation strategies of major corporations and savvy investors that tend to operate with longer timelines, bigger picture goals, and clear missions. He pulls from personal experience as a private equity investor, as well as variety of sources that span disciplines of leadership, psychology, conventional business strategy, financial management, and beyond.
The book delves into the specifics of governance, leadership development, enablers of corporate value creation, leverage, and beyond, offering action steps and helpful principles for enhancing valuation.
In doing so, Yaacoub presents a guide to business building that covers a ton of ground, yet remains focused on a core message of strategic growth and long-term success. With lessons and insights applicable to organizations of any size, this is a must read for any entrepreneur or company leader.
The Game of Value Creation (ISBN: 9798986061474) can be purchased through Amazon. The paperback retails for $20.77. Wholesale orders are available through Ingram. Review copies and interviews are available upon request.
Learn more at https://www.ky-vc.com/ and http://www.tgovc.com/
From the back cover:
The Game of Value Creation takes you inside the world of active investors, who acquire companies that offer substantial opportunities for value creation and turn them into success stories using a proven, calculated, and tactical approach, so that you too can benefit from the strategies that work for the big fish in your own business.
Karl Yaacoub, a former investment banker and private equity investor, reveals how to view a business as a series of interconnected parts while applying the same principles as world-leading institutions to help your organization achieve success.
The framework he proposes emphasizes the growth, and efficiencies, a business can achieve through current and yet-to-exist capabilities, the optimization of resources to maximize organizational benefits, and the need for protecting a business so it can remain in the game for the long term, with or without its current leadership.
Turning the subject of corporate value creation into a short and actionable read, The Game of Value Creation offers you a serious, yet exciting, pathway to the big leagues, so that your business can attain its highest valuation yet.
"Today's business needs people who understand the mission. The Game of Value Creation uses deep understanding of owner expectations, and sustainable financial goals tied to smart business practices, for success. This "no-nonsense" approach to corporate value creation focuses on proven business methodology and tactics to enhance and prolong the life of any operating business. Discover the secrets to building a lasting legacy from an institutional investment insider, and see your visions become reality!" – JJ Hebert, Entrepreneur and USA Today/ WSJ bestselling author
"Business mindsets such as Karl's are very thought-provoking. My conversations with Karl often lead to new ideas and solutions I hadn't considered!" – Michael Hamad, CEO and Owner of Soudrifft, Beverly Hills
"Act on Karl's insights and watch your business value grow!" – Abraham Daniel Hajjar, Strategy Manager at top tier global management consulting firm
About the author:
Karl Yaacoub has over 11 years of experience in investment banking and private equity. He began his career with a British multinational financial institution, where he completed assignments and deals in Asia, Europe, and the Middle East.
He then joined a newly formed investment company with a capital of USD 680 million.
As a dealmaker, Karl has worked on deals in many different industries, including oil and gas, chemicals, technology, healthcare, and education.
He has worked closely with a wide range of professionals from top investment banks, private equity firms, sovereign wealth funds, management consulting firms, family offices, and legal firms. His network of international colleagues, investors, and friends is among his greatest assets.
About MindStir Media:
MindStir Media LLC is an award-winning book publisher. To learn more about publishing a book with MindStir Media, visit http://mindstirmedia.com or call 800-767-0531.
Media Contact
Company Name: MindStir Media LLC
Contact Person: Jen McNabney
Email: Send Email
Phone: 800-767-0531
Address:1 New Hampshire Ave Suite 125
City: Portsmouth
State: NH
Country: United States
Website: https://mindstirmedia.com/