Oji Amorè Introduces Non-Toxic Luxury Candles
Zero Waste Candles Provide a Sensory Retreat
Oji Amorè is a purposeful soulful journey through the past recreating and imagining scents to ignite the love, strength, intelligence, royalty, and absolute magic of ancestral histories. Providing a sensory retreat that they experienced as world travelers Audra and David Custodio seek to capture the spirit of exotic destinations. Recognizing the hardships of life's past and present the handcrafted blends of non-toxic, zero waste candles with hand placed wooden wicks represent the labors of a people besieged by adversity.
Using premium personally sourced ingredients to create layered scents that harken to ancestral homes, the sensory retreat provided by each Oji Amorè candle is a spiritual transcendence. Influenced by the roots of Africa, Dominican Republic, Brazil, Columbia as well as other regions that have touched the soul of a people. A purposeful recognition of people of color and their unwavering resilience in the face of adversity, Audra and David Custodio founded Oji Amorè to memorialize the history, commemorate the past as well as reimagine the future.
Purposefully named to express the love of their ancestors who ignited like the flickering flames of these candles during the darkest of days. They overcame insurmountable odds through an indefatigable spirit bestowed upon them by a higher creation. Oji Amorè is named to honor these people of color who never gave up and nourished their minds, bodies, and souls with their senses with a driving force to overcome.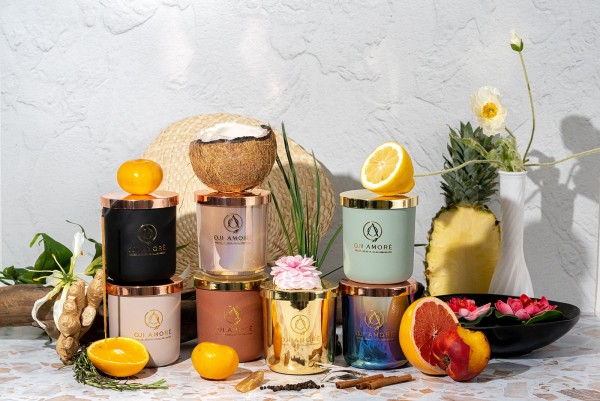 The founders of Oji Amorè take pride in honoring the strength of their ancestors by sourcing the healthiest ingredients including clean natural soy, apricot, and coconut waxes to craft their candles. A hand centered wooden wick which burns evenly and resourcefully is symbolic of the centered spirit of all who overcame oppression.
Stepping outside of the commercial scented candle industry, each of the Oji Amorè candles offers not a single fragrance, but rather a complexity of layered fragrances to relax the body, replenish the mind, light the soul, and connect with the essences of universal contemplation. Grouped by collections the Oji Amorè Candles are an introduction to a growing expansion of product offerings by this black woman owned venture.
Along with all-natural hand set candles made from premium ingredients and natural scents, Oji Amorè offers a selection of wax melts, crafted jewelry and home décor items all featuring the thematic underpinnings of ancestral homes and their peoples.
Every Oji Amorè candle and wax melt is an intentional scented experience of the affirmation and celebration of the heritage, resilience, love, and soul of a diversity of people who together form one. Audra Custodio is a nurse, who with the unwavering support and assistance of her husband David, created Oji Amorè to speak to the world traveler in each soul no matter if or how far they journey. The flame of each of these non-toxic, zero waste, premium ingredient candles is intended to remember and honor the indistinguishable flame of a determined community of people of color.
Media Contact
Company Name: Oji Amorè
Contact Person: Audra Custodio
Email: Send Email
Country: United States
Website: https://ojiamore.com/