Roy V. Gaston's Novel "Beyond the Goodnight Trail" Receives Rave Reviews and Awards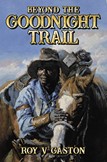 The winner of the 2021 Western Fictioneers Peace Make Award for Best First Novel is available on Amazon.
With rave reviews, Roy V. Gaston, author of "Beyond the Goodnight Trail" makes a splash on the literary market.
Columbus, Ohio, USA – July 1, 2021 – Early in the 1950s, books and films in the Western genre were prominent. Making a comeback to the literary world since the 2019 Pandemic, books and films in the Western genre are gaining in popularity. For author Roy V. Gaston, that is fantastic news because he published "Beyond the Goodnight Trail," a book set in the Wild West. Gaston says, "I think it's a very good story, a good, solid western in which the writing and the characters and plot development which readers of any genre will enjoy. I was extremely diligent in my research of time, place, and characters, and I believe any reader would enjoy."
"Beyond the Goodnight Trail" is a western, but it has a little of everything — native American culture, religion, politics, cowboys, of course, and some cowboy philosophy on life. The book also delves into adventure, nostalgia, and contains a very accurate portrayal of how things were during that historical time. "I use more historical characters than fictional ones, blending them into one story," Gaston says. "And it really is a story about inter-connectedness and seven degrees of separation in the Old West."
ABOUT THE BOOK
When former Texas Ranger scout Pete Horse agrees to join his old friend Charlie Goodnight's first trail drive across Texas to the New Mexico Bosque Redondo Navajo reservation, he knows the way will be fraught with danger. He expects to encounter bandits, hostile Comanche, bad weather, and stampedes, and he's not disappointed. He hadn't been expecting the treacherous Comancheros, renegade Apache, and night riding gangs of unreconstructed Rebels seething with resentment, and all of them fighting over a thousand stolen Army rifles. When he's forced to kill two men who are stealing his prized horse, Pete incurs the wrath of an ex-communicated religious zealot and his trigger-happy disciples. The entire Texas Panhandle is about to erupt in a shooting war that could spread across the West. Riding up with old friends Bigfoot Wallace, Bass Reeves, Britt Johnson, and more legendary men of the west, Pete still faces the longest odds of a long, turbulent life on the violent frontier.
Reviews
"Very atmospheric… an exciting storyline about trust, honor, and valiance in this classic western… this western novel will please readers looking for tension, adventure, and, of course, cowboys." Rating: 4.5 out of 5 Stars, The Book Review Directory
"A captivating, frequently philosophical page-turner that delivers a visceral portrait of the Wild West." KIRKUS REVIEWS
"A Western where the action springs off the page, you'll find yourself sucked deep into the heart and history of Texas." REEDSY
"A wild and thrilling, offbeat ride through a rough Texas and New Mexico landscape … Bigfoot Wallace, Bass Reeves, Britt Johnson. This tale… should win Gaston plenty of fans." Booksiren rates it: Amazing
"The world-building is wonderful … captivating and written in elegant prose." Rating: 5 Stars Reviewed by Ruffina Oserio for Readers' Favorite
"This action-packed Western… surpasses all expectations." Rating: 5 Stars Joelene Pynnonen The Independent Book Review
AWARDS
2021 Western Fictioneers Peace Maker Award for Best First Novel
2021 Spur Award finalist Original Mass-Market Paperback.
ABOUT THE AUTHOR
Roy V. Gaston's is a writer from Athens, Ohio, and a graduate of Ohio University. Before retiring and turning to writing, he spent a career as a unit supervisor in the Ohio Department of Rehabilitation and Correction. He is also a history buff with a love for the American West and the American Civil war. His first novel, "How Can a Man Die Better," a Civil War historical fiction, was published in 2019.
For author interviews or book signings, contact the author at [email protected], or call 614-809-5683.
Follow the author at RoyV.Gaston: https://www.facebook.com/AuthorHowCanAManDieBetter
Media Contact
Company Name: AAPH Press Distribution, LLC
Contact Person: Roy V. Gaston
Email: Send Email
Phone: 614-809-5683
Address:1231 Williams Blvd
City: Kenner
State: LA
Country: United States
Website: https://www.absoluteauthor.com