MINGDA Large-scale MD-1000 Pro 3D Printer Witnesses the Development of Autonomous Electric Vehicles in France
Industrial 3D printing is available to businesses for a variety of applications, from prototypes to production parts. These technologies include fused deposition modeling (FDM), stereolithography (SLA), selective laser sintering (SLS), material jetting, and metal 3D printing. Recently, a big company from France has signed a big contract with MINGDA, purchasing their large-scale MD-1000 Pro 3D Printer (max printing size: 1000x1000x1000mm).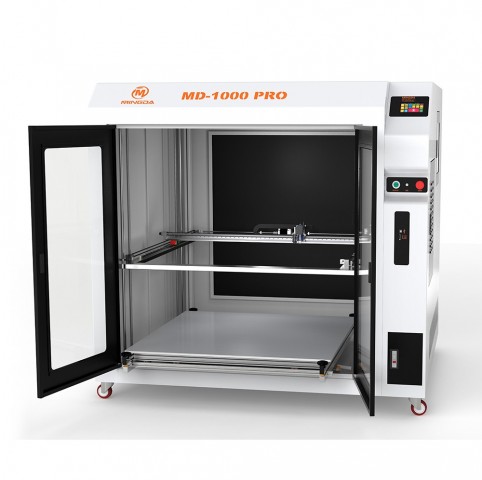 According to the sales director of MINGDA, the French company has been an old customer, as they had business connection since 2015. Some big-sized 3D printers from MINGDA work well in France, and more and more potential customers show great interest in 3D printing in the field of public traffic.
"If you want to get somewhere, instead of rummaging for the key, you'd pull out your smartphone and order an autonomous vehicle via an app. Less than three minutes later, it would roll up and drive you anywhere in the city where you want to go," the CEO of the French company introduced.
He continued, "Driven by this idea, they chose MINGDA and cooperated in 3D printing. For all the testing we talk about, software is really the heart of 3D printing, and MINGDA technology provides opportunities for new system designs and materials."
Moreover, many 3D printer users are fear of leveling, and Mingda's new models, Magician X Auto-leveling 3D Printer, features automatic bed-leveling. No need to worry about leveling. The company claims that all troubles in leveling solved in few seconds with only one touch. Click for more: https://www.3dmingdaofficial.com/products/mingda-magician-x
About MINGDA
MINGDA, a well-known 3D printing company, has been specializing in the OEM & ODM of 3D printers since 2009. The business owns two series of DIY and whole professional machines, fully meeting the needs of different users, and its products are exported to more than 180 countries.
Visit for more: https://www.3dmingda.com/
Media Contact
Company Name: Mingda 3D Printer
Contact Person: Mr. Sam
Email: Send Email
Phone: +86-13530306290
Country: China
Website: https://www.3dmingdaofficial.com/