Nate Sitawi's latest single "Family" hits over 40k streams in just a few days of its release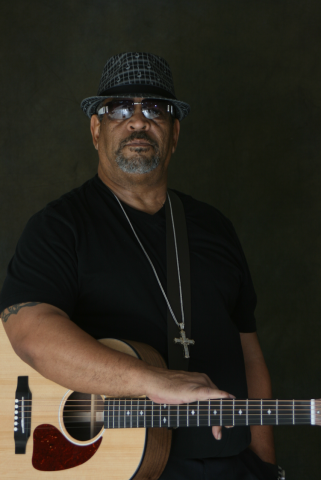 Fascinated by the sound of the guitar, Nate Edwards aka Nate Sitawi was inspired to play music when he was just eight years old. He grew up in Lincoln Heights, a suburb of Cincinnati, Ohio, also the home to multiple platinum and Grammy winner, the "The Isley Brothers". Because a lot of good music came out of Ohio back then (Bootsy Collins, Ohio Players, ZAPP, Midnight Star, and The Deele (who signed with the independent label he created in 2007, D-Town records aka D-Town Music Group)) he fell in love with music. "My Mom wasn't musical and the man I thought was my Dad wasn't musical. However, in 2019 thru a DNA test I discovered my biological Dad, my "real" Dad, and that's the mystery behind my artist name "Nate Sitawi". My Dad is very musical and even in his 80's, he's still engaged in Guitar, Vocals and hand-made wind instruments. The first time I met him and walked through the door I looked to the right and the first thing I saw was a guitar. I was just floored. That moment alone answered a lot of questions I could never answer", tells Nate Sitawi, about his ever-growing love for music.
His first project under the name "Nate Sitawi", "Family", is his latest single that is already a big hit with the listeners. Just in the first seven days, the track has garnered 5,000 streams on Spotify, and over 32,000 streams on SoundCloud. He says "In life, you are put through many situations and how you respond to those situations is extremely important". For Nate Sitawi, his "situation" was the loss of one of his sons to a tragic accident a couple years ago. Music helped him deal with the toughest of times any parent would ever have to face in their entire life. This song is an expression and a projection of how he made it through this difficult time and with his music, he wants people to know that "when you are in any situation, the choice is yours on which path you take, but make the choice that will help you grow and be better than the day before, because every day you wake up you have a chance to recreate yourself!!"- Nate Sitawi
For Nate Sitawi, music is a feeling that you have inside, which is projected out through various sounds. He feels that music is never meant to be boxed, in or labeled because it's an expression of your inner self, therefore, Nate Sitawi doesn't like to categorize his music in any specific genre.
"Family" is about suffering the loss of a child, gaining a father for a short period, the unclear relationship with a family that he never knew existed, and overcoming obstacles, all within a year. The songs are about resilience! No matter what your situation is or was, it will help you reflect on that situation and inspire you to move forward in life realizing that your happiness comes from within.
Media Contact
Company Name: D-Town Music Group
Contact Person: Press Executive
Email: Send Email
Phone: 214-699-7325
Country: United States
Website: www.dtownmusicgroup.com